EDI events include Democratizing Work Conference Fall 2021, OSUN Faculty Workshop on Pedagogy of the Right to Employment and Economic Perspectives for Policy Making, Research-to-Action and Economic Democracy Lecture Series, and the OSUN EDI 2022 Summer Workshop on Public Finance and Economic Policy.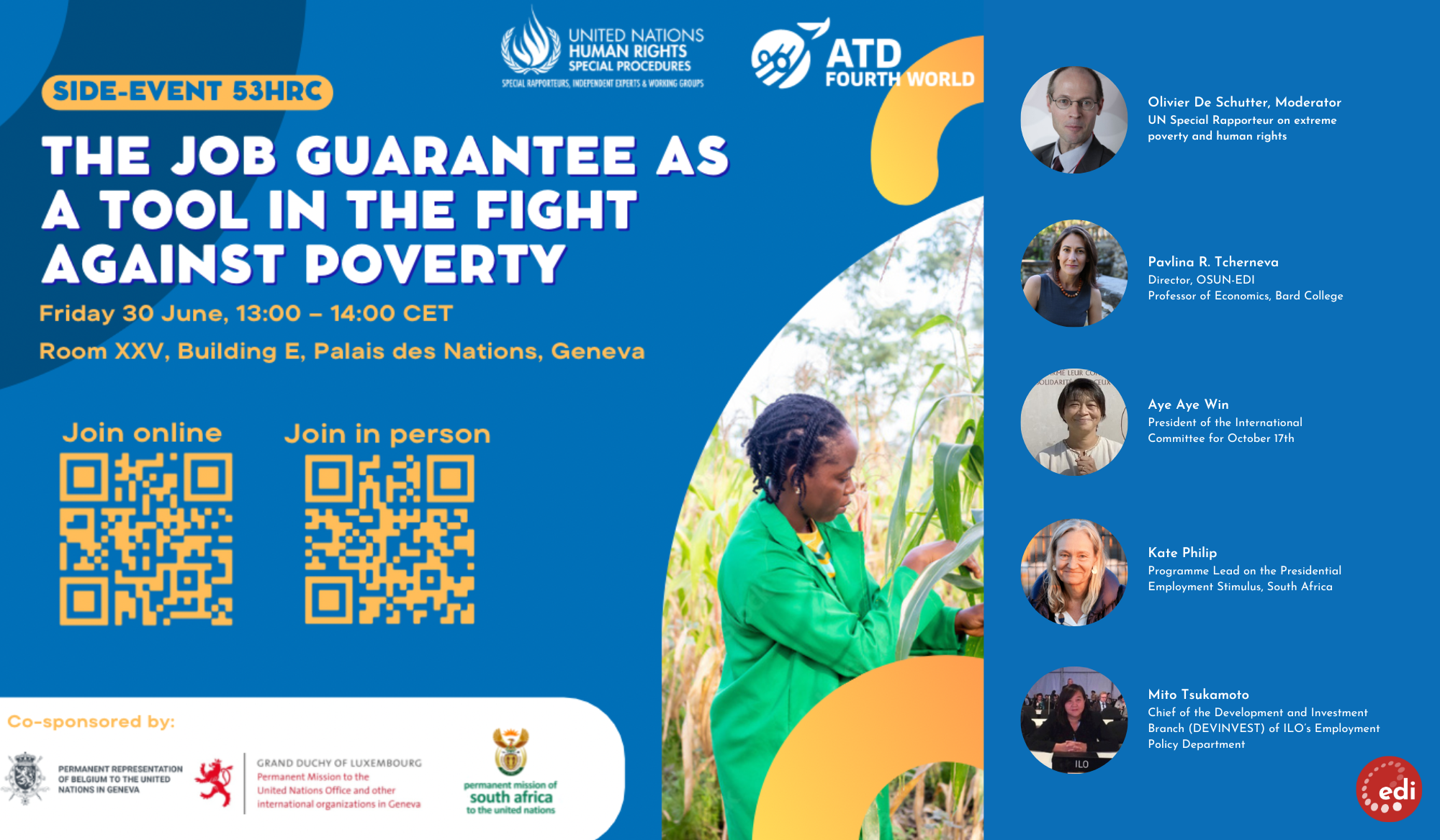 The Job Guarantee as a Tool in the Fight Against Poverty
United Nations Human Rights Council Event
Olivier De Schutter, the UN Special Rapporteur on extreme poverty and human rights, experts on poverty and employment policy, as well as leading job guarantee advocates and practitioners unpack the role of the job guarantee in the fight against poverty and the conditions under which it can be successful.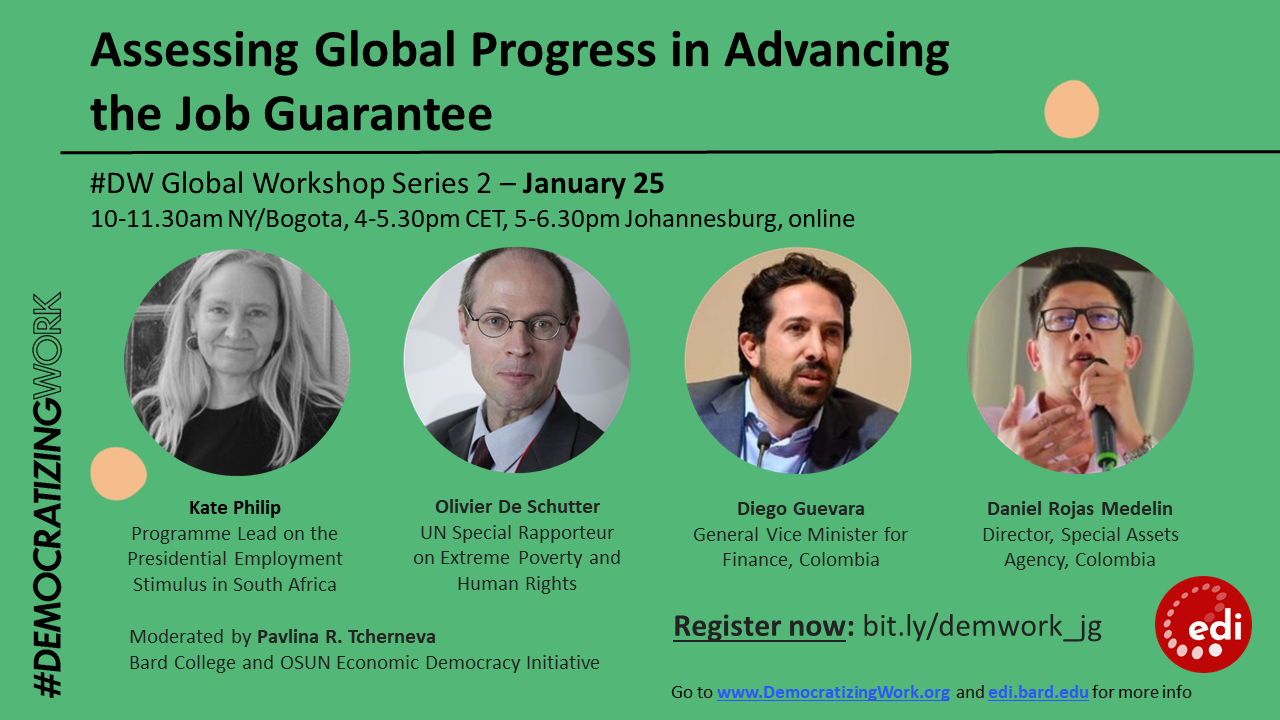 Assessing Global Progress in Advancing the Job Guarantee
#DemocratizingWork Global Workshop Series
This panel brings experts and policymakers who are developing or already managing large-scale national employment policies informed by the principles of the job guarantee. There are multi-pronged strategies for securing the right to decent work to all and developing employment-centered economic policies.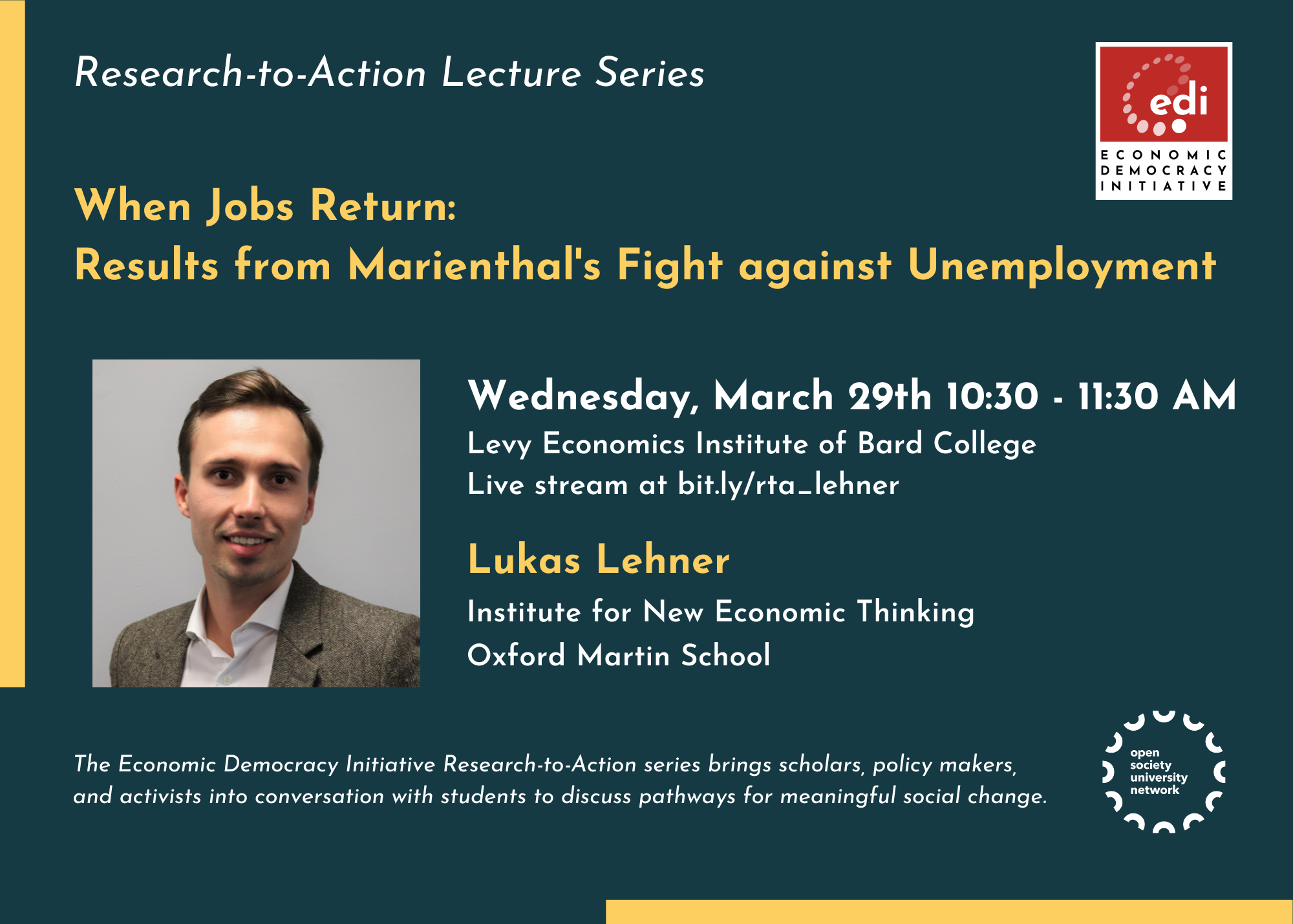 When Jobs Return: Results from Marienthal's Fight against Unemployment with Lukas Lehner
Research-to-Action Lecture Series

Lukas Lehner, of the Institute for New Economic Thinking at Oxford Martin School, presented the results from a study that evaluates a one-of-a-kind job creation program in Marienthal, Austria. The pilot aims to eliminate long-term unemployment in the municipality and improve participants' economic and social situation. The program was recently discussed in the New Yorker.

EDI Panels at the 2022 Difference & Justice Conference
Bard College | Sponsored by Open Society University Foundation
"Basic Human Rights: What Does an Equitable Future Look Like?"

11:00 - 11:50 AM The Right to a Home: The Intersections of Housing and Racial Justice
1:30 - 2:20 PM Economic Rights and Economic Security
Upcoming Events
10/11

Wednesday

12:00 pm – 1:30 pm

EDT/GMT-4

Campus Center, Weis Cinema